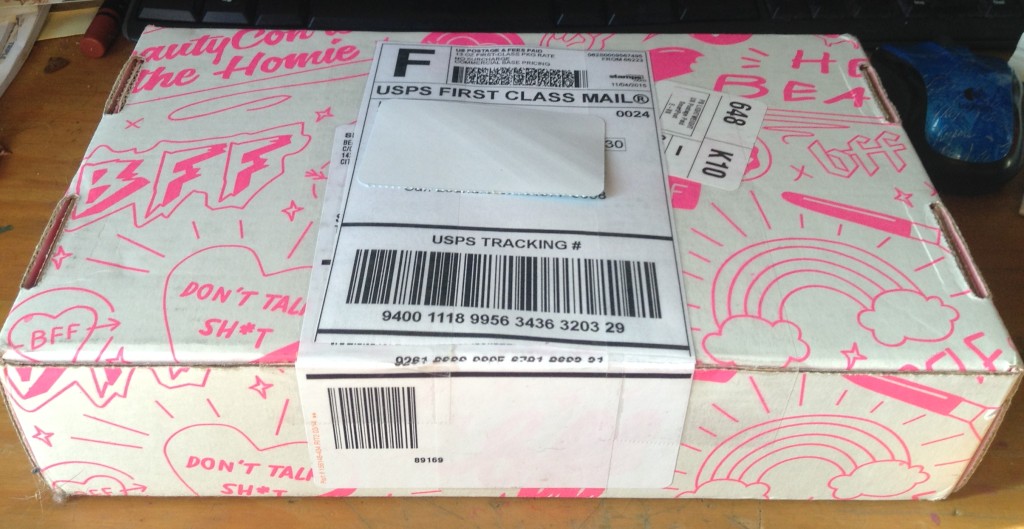 BeautyCon BFF Box, beauty & accessories for teens, $37/quarterly
Promo: sign up for their mailing list using this link, and get $10 off your first box
I paid: swapped for item with RV $35
Box Retail value: $65-$87
Enjoyment factor:will see

The BeautyCon BFF box is a relatively new quarterly box (this is only their second box) that includes a mixture of low-end beauty items and accessories. It's aimed to teens and young adults.  It costs $37 per box, including shipping, or $32 if you subscribe and pay for a year in advance.
BeautyCon itself seems to be an online platform that aggregates the beauty social media world. Each box is curated by an beauty social media personality.  This is a review of the fall box, which was curated by Lolocat, a BeautyCon employee.
After reading a review of the first Beauty BFF box, I wasn't particularly impressed with its offerings. While I thought my kids would like the offerings, they didn't seem like a particularly good value.  Still, my daughter learned about it through social media and expressed interest in getting it, so when I came across a whole box available or swapping, I went for it.
I gave my two daughters the choice of opening the box now and splitting up the items between them, or of having one of them get the whole thing for Christmas (and the other one get another box).  They decided on the latter option, so I will have to update this review when my oldest daughter actually sees and evaluates the items.
While my 13-yo hasn't seem what's inside the box yet, she did see the box and instantly fell in love with it. "I don't care what's inside the box," she said, "I just want the boxes!".  Apparently BeautyCon knows what will attract the interest of young teens, at the very least.
The box I got was filled to the brim, but did not have all the same items pictured at the BeautyCon site. I'm not sure if this is because there are variations of the box, or if the swapper who sent it just kept a few of the items for herself, in either case the box was actually a pretty good value.   The total value of the items I got was around $65.  The value of the box others have gotten is around $87.
This is what came in the box we got:

Boho Scarf, $4?
This is a colorful, thin scarf. I didn't open it all up, but it's in the colors my daughter likes. While she doesn't wear scarfs, I'm sure she can ind some use for it.


Glam Grooves Headphones, 3?
These are heap, no-name headphones, made in China, but they are cute and who can't use an extra pair of headphones?
Statement Necklace, $4?
As far as boho statement necklaces go, this one is rather measured. Still, I think it's going to be too much – and too old – for my 13 yo.  She might still choose to rock it, though.
Stacked Ring Set,$ 2?
This is a set of four gold tone stacked rings.  Gold is not my daughter's favorite color and these rings are very cheap looking (and given how nice are super cheap rings at Ali Express, I don't quite get why they didn't send something nicer).
Conair colorgripz Tourmaline Ionic hair brush, $5
I haven't been able to find much about this hair brush.  It appears in a few Canadian discount sites but Conair doesn't list it. The copyright on the label is from 2010, so it's an old brush anyway. It's made in China
ColourPop Lippie Pencil and ColourPop Lippie Stix in LLB (burgundy), 1 g each, $5 each
The color seems too dark for my daughter, but we'll have to see how much she likes them.  I do like they are made in the USA.
Baby Lips moisturizing lip gloss in Taupe with Me, 5.5 ml $4
My daughter likes the Baby Lips brand and I like that it's made in the USA, but she is not a fond of nude lipglosses.  It's a pretty moisturizing product, though, so she can just use it as a lip balm. 

Pop Beauty Kajal Pen in inky purple, .9 g, $10
This is the single item in the box that is made in China. I removed it from my daughter's box as I don't let them wear Chinese makeup.
This brush is not that little and it gets surprisingly good reviews. I'm sure my daughter will like getting it.

Real Techniques Fine Liner Brush, $5
This brush is apparently for applying liquid eyeliner.  My daughter doesn't use it, but perhaps she'll find another use for it. It gets mixed reviews.
Skinfix Hand Repair Cream, 1 oz, $9
This seems like a strange product to include in a teen's box, but I guess teens can have dried, damaged hands as well.  This is a heavy-duty cream with 1% oatmeal – it's going to be good for eczema, itchiness and for healing.  I'm sure you can apply it to places other than your hands. It's made in Canada.

Items that I didn't get.
Other reviewers report getting several items that I didn't get in my box. I don't know if that's because the person who received this box originally kept them, or whether they didn't receive them at all.  These include:
makeup bag ($2?)
Beauty Fades, Pizza is forever sticker
Benefit- They're Real Mascara ($24?)
Box of Altoids.

Other Items I did get:
There were two additional items that I got in this box that weren't in the regular box, which may have been added by the person who sent this to me.  These were:
Naked Lips Organic Lip Balm in Peppermint, 4.25 g, $6
This seems like a basic but potentially nice lip balm, and I like that it's 99% organic. It's not clear where it's made, but the company that makes it is based in Scandinavia. (Note, this item does not appear in the photo

Tootsie Caramel Apple Pops, 2, 50-c
My youngest daughter loves these and they are made in the USA.