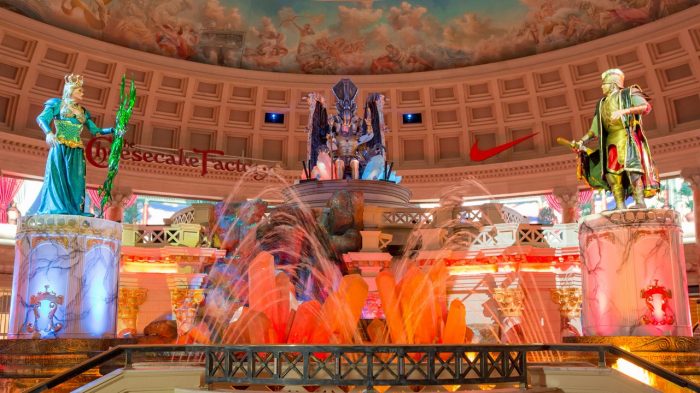 Every year for what seems like a decade we've been going to Vegas in the summer. My husband has a conference and we tag along. And every year we go to the Forum Shops at the Caesar's Palace and watch The Fall of Atlantis fountain show. It may be 1960s technology and cheesy, but the animatronics are still pretty amazing.

Unfortunately, I've never been able to understand the show at all. The sound is really, really, really terrible. Dramatic, sure, but it turns the voices incomprehensible.

For years I've looked for a script for the show so I could understand it. I've written to Caesar's asking for it to no avail. Fortunately, this year I found a YouTube recording of the show that has the actual script. The guy who subtitled the show took the trouble to watch recordings of the show carefully and then wrote it down. I'm not sure it's 100% accurate, but it's close enough and I'm glad that this year I can watch the show, script on hand, and finally understand it.

Here is the script:
Pay heed to Poseidon, he rules our seas divine.
He shakes the core of olympus.
More rain is his warning.
Honor the gods and all their might
Watch their Magic fill our void, to bless this special night.
Behold this vision. The story of Atlantis will show you the truth.
Atlas, king of Atlantis, has arrived.
Listen to him speak of his city's ruin.
His kingdom was destroyed by foolish pride.
ATLAS
I once faced a decision, which destroyed my precious land. Our magic crystal, source of our strength, was brutally extinguished. Re-live my story, here in your form. Behold our crystal, powerful and right jewel.
From my children, I must choose a successor. But power has seduce them. I have lost command. They misuse our magic crystal. They destroy our precious land.
Alaia, daughter of water, rules the ocean and the rain.
Gadrius, son of fire, wields the fury of all flames. I call on them now. Alaia, grace us!
Wielding an angry trident, she stabs the tank, coaxing the waves to dance. Her eyes are the color of the sea's greatest waves. Her head is dusted with gold from the ocean's floor.
ALAIA
Dear father, I deserve your throne. Choose me! I quench deserts by tickling the sky, I put out fires with a wink of my eye. Come out, you brother, from wherever you hide. Try to survive the wrath of this tide.
ATLAS
Be still, Alaia. Put your childish ways to rest.
Gadrius, my son, come forth now!
Behold Gadrius. His fingers are made of flint. His eyes are the color of flame. His heart burns of ambrosia orange.
GADRIUS
Hail father! Choose me to inherit the throne. My fire conquers the darkest night and kisses each day with brilliant light.
Poor, poor sister, your precious ice is melting.
ALAIA
Dear Brother, your force is a weak threat! I have plucked this wave from the earth's edge. I'm the only one fit to rule this land.
ATLAS
Stop this evil rage! Cease this mad war. I beg you, my children! Destroy no more!
ALAIA
Give in brother, before you fade to nothing.
GADRIUS
Poor Alaia, your strength deceives you. My fire angers your water.
ATLAS
Gadrius, Alaia, Stop this madness!
GADRIUS
I rip this beam from the sun and lace it with Hade's breath.
ALAIA
I seize the windstorm and spite you with pelts of sleet
GADRIUS
Ha! Your water turns to mist to disguise you perfectly. Surrender! I will smother your sea creatures.
ALAIA
Cease! I will prow your stars!
ATLAS
Titans! Our magic suffers under your brutal attacks! Hear me, children! Cease this madness!
I cannot choose one child above another. Good people of Rome, I put the choice in your hand. Choose the heir to my throne and cease this foolish fight or we'll find this precious land robbed of day and starrry night.
Gadrius or Alaia. Please, help me choose. Speak up, choir! Riase your voices if Alaia should be queen!
GADRIUS
Your votes are useless. Soon you will see this mighty kingdom will belong to me.
ATLAS
Now you vote if Gadrius should be king.
ALAIA
I won't forget this. If you dare, and I'll put a tornado from this thin night air! Gadrius, what a pity, it seems they've chosen me over you.
GADRIUS
Do not deceive yourself. They voted that I should be king.
ATLAS
Oh great Gods! Forgive me! My children poison this kingdom with greed. It is a cold, black day for Atlantis, indeed!. It is too late to halt this evil war, and so the gods shall settle with a storm.
ALAIA
With the cruelest rainstorm this world's ever seen, I will silence you forevever so that I shall be queen.
GADRIUS
Not before you collapse to my fiery steel. I will burn you, Alaia, and they I will be king.
—
I have come to end this ambitious fight. Now I see the fate on this land. The rest of this earth is my duty to save, so I'm forced to send Atlantis to its watery grave!
The sun and the sea, in one swift beat, shall finish this war with water and heat.
—
You have witnessed the fall of Atlantis. Remember the vision, learn and take heed.

And here is the subtitled show:


Surprisingly, it's easier to understand the show by watching a recording than by being there in person. This version has the best audio I've found: